Ullapool
content
content
Located in the heart of Ullapool, our centre building is a renovated herring store and stands as a link to both our village's fishing industry past and our role in a thriving coastal community.
Given our location, we're proud to be a recognised RYA Training Centre delivering courses to the maritime sector while improving the skills, knowledge and safety of seafarers. When on the water, you'll learn in an RYA coded vessel - thanks to Ullapool Harbour Trust - in one of the most beautiful, natural deep water harbours.
At Ullapool you'll always be treated as a name, not a number and our dedicated centre staff are on hand to help you every step of the way.
RYA Training Courses content
RYA Training Courses
RYA Training Courses
Ullapool College Centre is an RYA Training Centre with use of a coded boat to deliver its powerboat courses, by kind agreement of the Ullapool Harbour Trust.
RYA Training Courses
RYA Powerboat Level 2
RYA Marine Radio (SRC)
RYA Day Skipper
"We are delighted to be given the opportunity to work in partnership with UHI West Highland to develop an RYA accredited training centre in Ullapool, which will deliver a range of maritime course to the commercial sector. This will enhance and strengthen the current offering from the centre and improve the skills, knowledge and safety of the maritime workforce."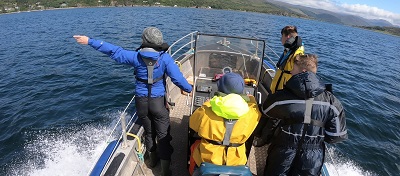 Studying in Ullapool content
Studying in Ullapool
Studying in Ullapool
Dave McBain is studying BA (Hons) History and Archaeology part time with us. Here he talks about the simple pleasure of learning, being up to his knees in history and how home study beats Game of Thrones.
"My wife and I run a wee business in an area surrounded by amazing history and this course has allowed me to learn from home, part-time and somehow fit everything around the day job - so far it's been amazingly easy to do - even in the midst of a global pandemic.
I knew next to nothing about either subject, but I have loved every minute of study and thanks to UHI West Highland I can now make a lot more sense out of ruins and partially buried dykes than I ever had before. It's a great degree, where you can learn a load about what's often, quite literally, under your feet.
I didn't realise at the start, just how flexible everyone would be - tutors even agreed that a practical excavation skills module could be slotted in a year early to fit with the excavation of the Clachtoll broch which is right on our doorstep. Being part time, I've been doing the degree at half pace and have even found the time to write a local history book "Fishing in Assynt, an oral history".
A huge bonus for me is that all the sessions are recorded, so if you miss a class, or want to cram for an exam, you can just watch them back, which is infinitely better than an evening in front of a boxed set of Game of Thrones."
Facilities content
Facilities
Facilities
Our centre in Ullapool is a good venue for small meetings and events. Our facilities include a meeting room and IT suite with PCs and video conferencing facilities. We also provide printing, scanning and photocopying and can arrange for tea, coffee and catering needs. Please contact us to discuss your requirements and request a quote.
content
Contact us
Tel: 01854 613099 or 01397 874540
Email: Christine Crook or ullapool.nwh@uhi.ac.uk
Ground Floor, 2 West Shore Street, Ullapool, IV26 2UR
Làr Ìseal, Sràid a' Chladaich an Iar, Ullapul, IV26 2UR
Get directions to our Ullapool Centre
Opening hours
Mon, Tue, Wed | 9am - 5pm
Thurs | 9am - 12pm
Fri | Closed
*Summer hours may vary