Thurso
content
Standing proudly on Ormlie Road, our Thurso campus is a prominent landmark in Thurso, with its impressive large glass structure! Home to specialised centres such as the Environmental Research Institute, House of Morven and the Engineering, Technology and Energy Centre, we offer an extensive range of over 100 courses spanning from beauty therapy to environmental science! Our courses are designed to align with industry demands and our emphasis on practical skills and real-life working environments, ensures you gain valuable hands-on experience to enhance your career prospects.
Environmental Research Institute content
Environmental Research Institute
Environmental Research Institute

Thurso is also the home of our Environmental Research Institute (ERI), a centre of aspiration that seeks to be internationally recognised for distinctive and innovative environmental science.
The original ERI centre based in Castle Street, is a stunning old Victorian School House with offices, laboratories and a conference room. The Centre for Energy and the Environment (CfEE) is a £3 million purpose-built centre situated at the main college campus in Thurso. It is equipped with open-plan office space, conference rooms, workshops and teaching laboratories.
Engineering, Technology and Energy Centre content
Engineering, Technology and Energy Centre
Engineering, Technology and Energy Centre

Our Thurso campus is also home to our Engineering, Technology and Energy Centre (ETEC). This is where we deliver engineering programmes and modern apprenticeships in partnership with employers in an up-to-date, practical setting with excellent industrial facilities.
The centre is amongst the largest and best equipped of its type in the North of Scotland, providing approximately 3,600 square metres of purpose-built engineering facilities, dedicated to the engineering and renewable energy sector.
There are two large workshops divided into dedicated training zones.
Our Engineering Skills Workshop consists of:
Mechanical Zone including materials testing laboratory, hand skills and machining areas, and mechanical maintenance
Rig Zone including industrial-scale electrical, mechanical, control and instrumentation rigs so you can practice plant commissioning, maintenance and isolation dismantling
Electrical Zone including inspection and testing area, motor room, electrical installation and electrical maintenance areas
Our Fabrication and Welding Workshop consists of:
Welding Zone including equipment to carry out a wide range of welding and fabrication processes
Fabrication Zone including light and heavy fabrication areas and a five tonne overhead crane
The Centre also has a large Education Zone dedicated to teaching space and fully equipped with modern video conferencing and multimedia teaching aids, including computer workstations giving you access to a full range of industry-standard engineering software applications.
House of Morven content
House of Morven
House of Morven
House of Morven is a commercial training facility, home to our Hairdressing and Beauty Therapy salons, as well as our professional training kitchens, Flagstones Restaurant and Cafe at Morven. Open to the public, these facilities allow students to gain valuable real-life experience in a working environment.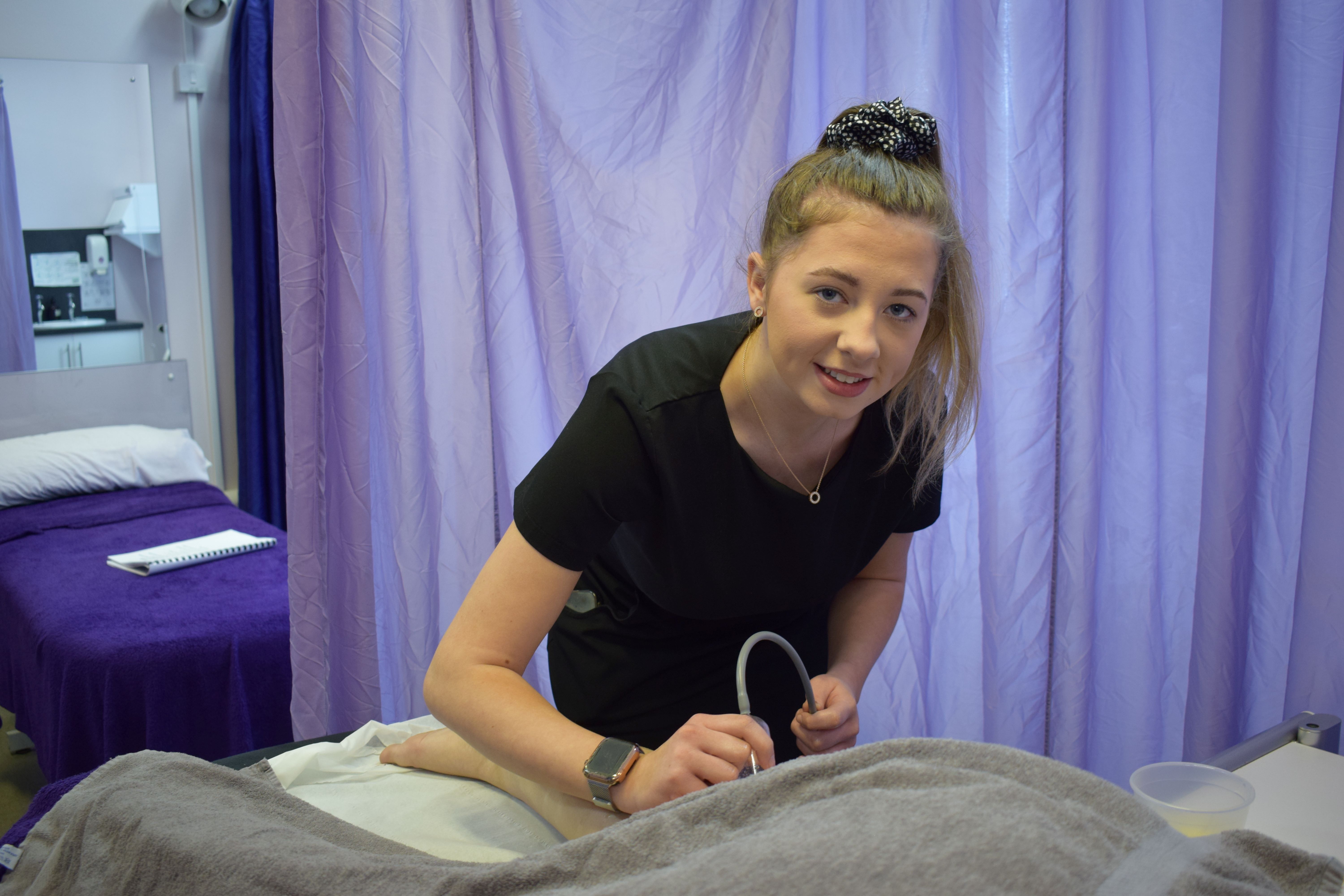 Rural Studies Centre content
Rural Studies Centre
Rural Studies Centre
UHI North Highland is at the forefront of developing training programmes for Land Use subjects. We have built up a range of expertise and developed excellent relationships within the industry with estate owners, veterinary nurse practices and equine specialists.
Students train at our state-of-the-art Rural Studies Centre - the only one of its kind in the North of Scotland. It was officially opened as an Equestrian Centre in July 2013 by Her Royal Highness Princess Ann in her official capacity as Chancellor of the University of the Highlands and Islands. It has since undertaken major works to house the veterinary nursing departmnet.
Expert facilities include:
International sized outdoor and indoor arenas
Tack room and 20 purpose built loose boxes
3 high specification classrooms and large video conference suite
Modern office suites
Custom veterinary nurse training area including; theatre, kennels, preparation room, isolation area and consultation room
Get directions to our Rural Studies Centre - Dale Farm, Halkirk, KW12 6UW
Hire our facilities content
Hire our facilities
Hire our facilities
At our Thurso campus, we have excellent facilities to meet your requirements, whether you just require a room for hire or a range of facilities to support your event.
We can provide onsite hospitality, administrative and technical support. We have a variety of classrooms which are available to hire at competitive rates. Classrooms have video conferencing facilities, whiteboards and overhead projectors.
Our Engineering Technology and Energy Centre has bright classrooms fully equipped with modern video conferencing and state-of-the-art multimedia teaching aids. On the ground floor, an Atrium area, accommodating approximately 150 people can be used for conferences, exhibitions etc. Our House of Morven Hair and Beauty students host their annual student showcase within the Atrium area, also our open days and the 'Caithness Jobs and How to get them' event every second year are held here. We also have a stage and PA system available in the area as well as recreational areas, changing rooms and kitchen facilities.
If you would like further information on availability and prices please contact:
nhcbusiness@uhi.ac.uk
01847 889000
content
Contact us
Contact the Thurso Campus, ETEC and ERI CfEE:
Tel: 01847 889000
Email: thurso.nwh@uhi.ac.uk
UHI North, West and Hebrides
Ormlie Road, Thurso, KW14 7EE