From Khao Sok to Castlebay, local schools celebrate biodiversity with UHI STEM
Over 200 primary school pupils on Barra, Benbecula and South Uist are exploring tropical habitats and the wonders of what's in our own super soils this week in a series of workshops aimed at encouraging young people to relish the amazing diversity of habitats at home and around the world.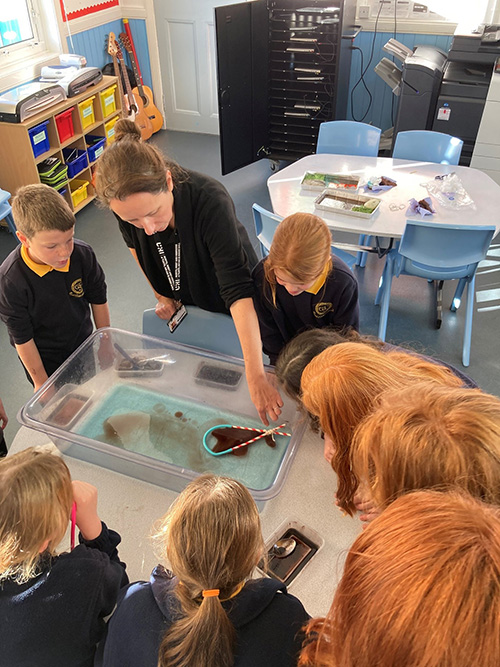 Led by Eve Armstrong, Education Outreach Officer at the Royal Botanic Garden Edinburgh (RBGE), who is undertaking a short expedition of her own around Castlebay, Eoligarry, Balivanich and Iochdar schools, the workshops kicked off on Monday November 6, at the start of Barra Schools Environment Week. They were instigated by Monica MacLeod, STEM coordinator for UHI and have been devised by RBGE in conjunction with UHI, the University of Glasgow and Barra & Vatersay Science Festival.
Older pupils in P4 to P7 have been joining Eve in visiting the working lives of RBGE scientists. Using high quality virtual reality headsets to explore the kind of tropical habitats some RBGE scientists study, they have been learning about real rainforest plants grown back at Garden's extensive Glasshouses, currently closed to the public while undergoing major refurbishment. And the pupils have also been taking up the challenge of exploring plant life in their own playgrounds. By heading out to undertake fieldwork on their own doorsteps they have been determining how the environment in Scotland is different to that of the tropics, while acknowledging the importance of our own temperate rainforest.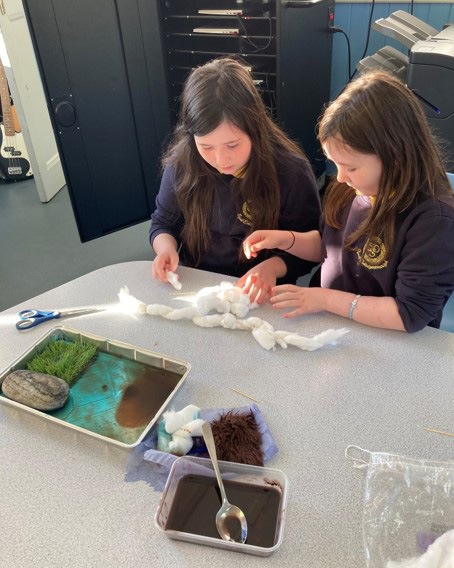 Younger pupils, meanwhile, are getting down to the business of investigating the vital world beneath our feet in Super Soils, a floormat workshop created to stimulate interest in the ingredients that make up soil and the bugs and beasties living within it. The younger groups are also getting crafty, making soil paints and creating their own unique artworks, while picking up tips on actions to help protect our super soils.
Eve explained: "After much planning, it is fantastic to finally be here and meeting so many primary pupils, with a focus on a new era of schools outreach for RBGE – thanks to support from the National Lottery Heritage Fund. Monica MacLeod has been integral to this venture, in liaising with the schools and facilitating the visit and deserves huge thanks.
"These children are the future guardians of our planet and the starting point for them should be about having fun. The intention this week is to inspire a sense of wonder in the natural world through interactive sessions. The pupils are so excited and engaged. It really is turning out to be fun and inspiring for me as well as them."
Both sets of workshops are linked to the Curriculum for Excellence and designed to connect children with their local environment, as well as providing an introduction to scientific research and explaining the work of the botanic garden by introducing the importance of fieldwork in monitoring and protecting plant biodiversity.
The longer-term ambition is to run more sessions in schools throughout Scotland, with similar sessions currently planned for the Lothians and Borders in spring.